Kerala village riverside homestay
Pranayakulam – meaning 'commune of love', signifies a hope and belief in the possibilities of human life. Conveying the sense of unity beyond boundaries. All are invited to stay with us, relax and explore life as an endless oasis. The unique atmosphere offers a life that is aligned with nature. Life becomes a process of meditation in and of itself.
Stay along the river's stream 
In a laid back village, Non Tourist location

With loving family

A commune of love, feel it  
Let's eat together from nature
Yoga and Meditation techniques
Revive your inner artist
Sometimes that's all we need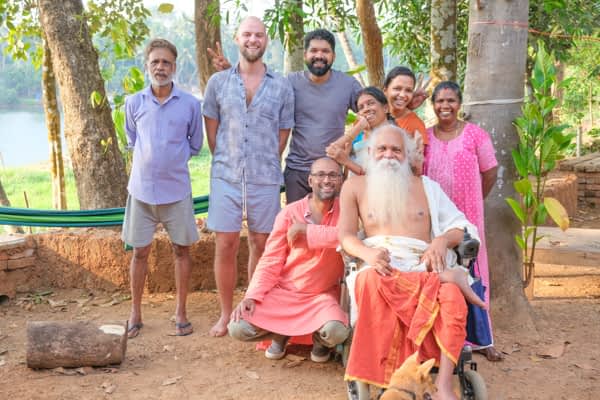 A 'normal' family, which opens its doors to experience new cultures and give travelers a second home.
Swami – Head of family, master of meditation
Amma – Full of love
Nandu – Who can get you anything you need
Neethu – The artist
Ambi, Sandhya – Master chefs
Easiest way is to get Home from Cochin Airport is by taxi. We can arrange pickup if informer early. THere is also trains and buses. Look for 'Piravom Road' railway station. Home is just 5 mins away from the station. There are several trains daily from Ernakulam and Kottayam
You can also drive here easily following 
google maps.
Location
Our Home is located in central kerala, a small village called Mevelloor in Kottayam District.  
Only 1.5 hrs drive away (60 km) from Cochin International airport, still far from city's noise.
The place is close (1-3 hours) to major attractions like Fort kochi, Munnar, Aleppey and kumarakom.